Founded in 1970 by Japanese designer Kenzo Takada, the French luxury house, part of the LVMH group, has built up a reputation for being vibrant and dynamic which is also reflected in a recent campaign to promote their new fragrance 'Kenzo World'.
As part of this campaign, the brand launched a website exclusively dedicated to showcasing the different versions of the perfume and the artistic creation behind. To make full use of the potential of their creative marketing efforts, Kenzo decided to deploy Swaven's POP (Point of Purchase) solution worldwide for Kenzo World but also for its other perfumes.
Three Kenzo sites have already been equipped with the POP service: kenzoparfums.com, kenzoworld.com and flowerbykenzo.com. To promote the products through different channels, 18 landing pages have also been launched with POP. Countries covered so far include France, Germany, UK, Spain, Italy, US, Argentina, Mexico, and Russia. Other implementations in more countries are underway.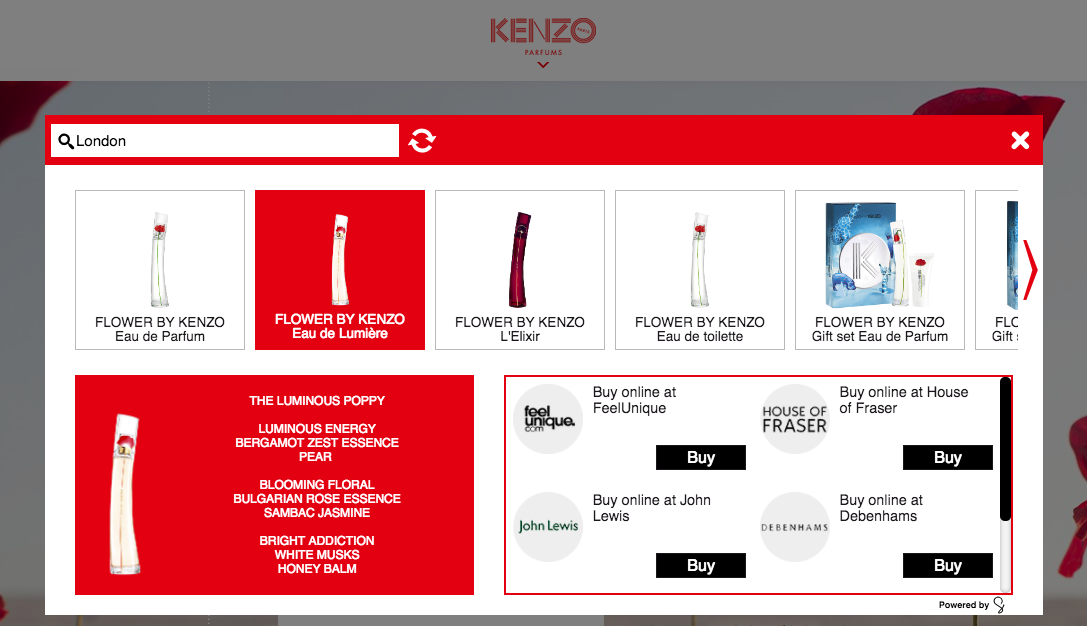 Swaven's brand commerce solutions are designed to make it as easy and quick as possible for brands to start carrying out multi-channel commerce directly from any consumer touchpoint, anywhere in the world. POP On Site used by Kenzo can be implemented within seconds without any need for the brand to modify their site. Furthermore, with an automatic detection of the products, no interaction from the brand is required to display the purchase options on the right pages.
For example, on the new Kenzo World website a "purchase" button automatically appears for the various products. By clicking on this call-to-action, the user discovers the online and offline resellers of the chosen perfume based on his/her geographic location and the availability of the product.
A multi-product and multi-retailer view invites users to explore other products from the same range and gives them the option to choose their preferred shop to buy from. By offering more choices, the brand serves 100% of its audience as well as of its reseller network. In one click, the shoppers get to their chosen online store to finalise purchase or get an itinerary to the chosen physical store nearby.
Today Swaven's platform enables dynamic connections between more than 75 million products and more than 150.000 points of purchase for millions of shoppers per day all over the world. And the figures are constantly rising with the global implementations for key industry players such as Kenzo.
Contact us to learn more about how you too can generate leads and drive sales directly from your brand contents, worldwide.