Dedicating a specific day once a year to honour mothers and motherhood is not a modern invention but has existed in various cultures across the world for centuries. Over time, old traditions such as visiting one's mother on "Mothering Sunday" and bringing small gifts or flowers, have evolved into a holiday that is celebrated by 66% of consumers in the UK1, 70,8% in France2 and 84% in the United States3.
Mother's Day usually takes place in March or May, although the exact date differs from country to country and so do customers' preferences when it comes to purchasing gifts. Flowers remain the most popular product in France4 but are surpassed by greeting cards in both the UK5 and the US6.
Interestingly, there is a discrepancy between purchase intentions and products that mothers would like to receive. This becomes evident in particular when looking at statistics for consumer electronics: while 14.9% of American customers were planning on gifting their mothers a consumer electronics product7, only 3.4% of mothers were hoping for such a gift8. In France, high-tech products did not even make it in the top 10 of gifts mothers were hoping for9.
Since becoming an officially recognised national holiday in the United States in 1914, Mother's Day has risen in popularity among consumers and now represents the third largest retail holiday10. On average, customers in the US spent $168.94 on gifts in 201611 which is almost 3 times more than the average for British consumers. However, despite a lower average per person spending, Mother's Day in the United Kingdom has seen a rise to the top similar to the US and is now on par with Easter in terms of gift spending12.
Considering that last year Brits were expected to spend a total sum of £1.4 billion on cards, flowers, gifts, and services13, it is fair to say that brands and retailers can profit from a boost in sales if they play their cards right and adjust their marketing strategies accordingly.
Here are a few tips to get on the right track:
1. RAISE AWARENESS AND PROMOTE YOUR PRODUCTS
In the weeks running up to holiday, there are various ways in which you can raise awareness of your brand. Remind consumers that Mother's Day is coming up on as many channels as possible: on your website, social media, display banners etc. Whether your products are distributed predominately online or offline, use the occasion to display relevant products – i.e. products that are more likely to be bought as a present and which you wish to suggest as gift ideas – in prominent places to make it easier for consumers to find them.
Many brands also use the occasion to launch special offers on selected products or thematic competitions to encourage consumers to purchase Mother's Day gifts from them.
2. GUARANTEE PRODUCT AVAILABILITY AND PUNCTUAL DELIVERY
Anticipate which products your customers are most likely to buy for the occasion and make sure to have enough in stock – selling out of a product days before Mother's Day could mean losing out on a substantial amount of sales as 1/3 of shoppers tend to leave buying gifts to the last moment14.
However, having the right quantity of products available for purchase is only the first step. In particular for online retailers it is crucial to plan ahead and make sure that their delivery processes are running smoothly. British retailer Marks & Spencer made that error this year when it failed to deliver gifts customers had ordered online on time. While brands are naturally always striving for punctual delivery, examples like this are a reminder of the importance of meeting customer expectations on particularly emotional holidays. In order to avoid being the target of angry shoppers who had to face their loved ones empty-handed, consider providing customers with a date for when to place an order to ensure definite on-time delivery.
3. CREATE A STREAMLINED PURCHASE PATH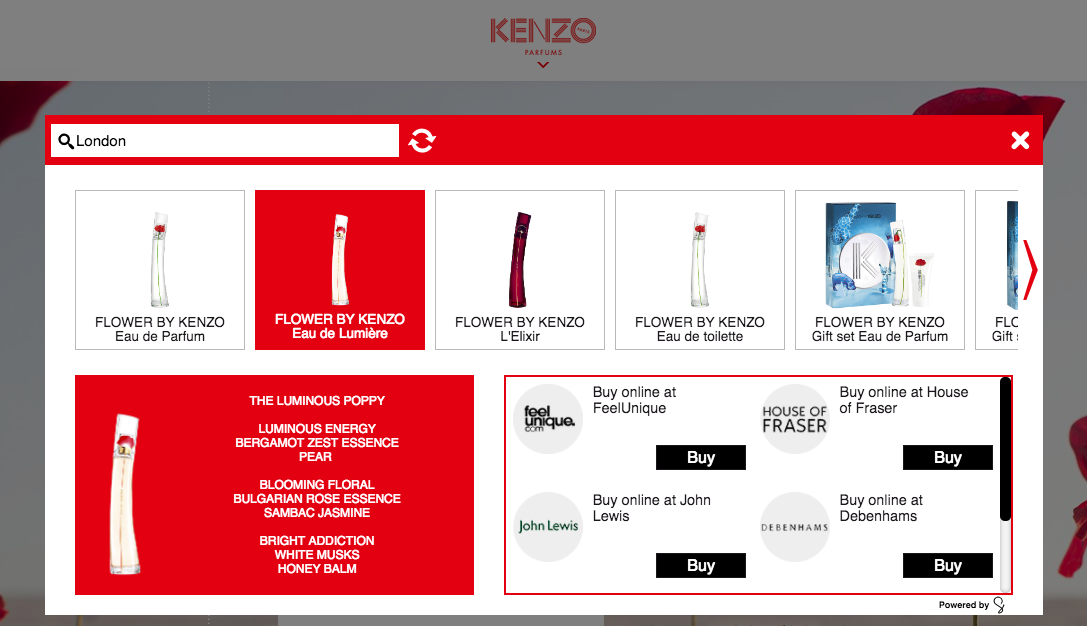 An attractive advertisement of a product in the right place raises interest, but if the shopper is not advised where to buy it, you quickly risk losing your lead. Creating a smooth and streamlined purchase path from all your product contents to your online and offline resellers is essential if you wish to increase your chances of conversion.
Swaven's POP (Point Of Purchase) solutions help you with this by making all your digital touchpoints shoppable and allowing you to generate qualified and geolocated traffic to your retailers online and in-store.
Not only will you increase user experience and accelerate your sales, you also get the necessary data to evaluate the efficiency of your campaigns channel by channel and their impact on the business outcome.
Get in touch with our team to learn more:
---
SOURCES
1, 5, 14 Savvy Shopper Panel
2, 4 Toluna Quick Surveys
3, 6, 7 NRF Mother's Day Spending Survey, conducted by Prosper Insights & Analytics
10 BigCommerce
8, 11 Statistic Brain Research Institute
12 Market intelligence agency Mintel