Digital channels play an increasingly important role for the toy sector. Last year, the e-commerce market share reached 26% in France and 24% in the United States. In the UK, 43.4% of toy sales are expected to be made online by 2022. Even though most people still prefer to purchase toys in physical stores, over 80% of consumers search online before buying.*1-3
While brands recognise the need to invest in digital marketing, they also need practical tools to measure and evaluate the business impact of these investments.
Consumer touchpoints have also multiplied. Adults and children alike use several social media and mobile applications on a daily basis. But in order to catch their interest, toy brands need a well targeted multi-channel strategy. And to convert potential audiences into buyers, they also need to adapt to different purchase behaviours. Whether it's online or offline, it is important to make it easy for the consumers to find and choose where to buy their brand products.
Major toy brands have started to optimise their digital contents to create a seamless buying journey. Those who use Swaven's POP (Point Of Purchase) solution to do this have reached 15X more qualified leads on average, and significantly boosted sales and the business impact of their campaigns. Let's take a look at how it works through some examples of two industry leaders, Mattel and TOMY.
Tomy drives its digital marketing performance on all fronts
Since two years, TOMY uses Swaven's Point Of Purchase solution to make its brand contents instantly shoppable. Audiences visualising TOMY's brand contents discover in one click where to buy the advertised products online and offline. No need for the consumers to search elsewhere, TOMY leads them directly to their preferred shops. Convenient and efficient!
TOMY first started using the POP service in its video campaigns and in social media. This year the solution was also implemented on its website as part of a continued shoppable always-on strategy. So far, the group has launched several shoppable campaigns with Swaven in France and in the UK for Lamaze, Kiipix, Pokémon, Aquadoodle, Toomies and Molang.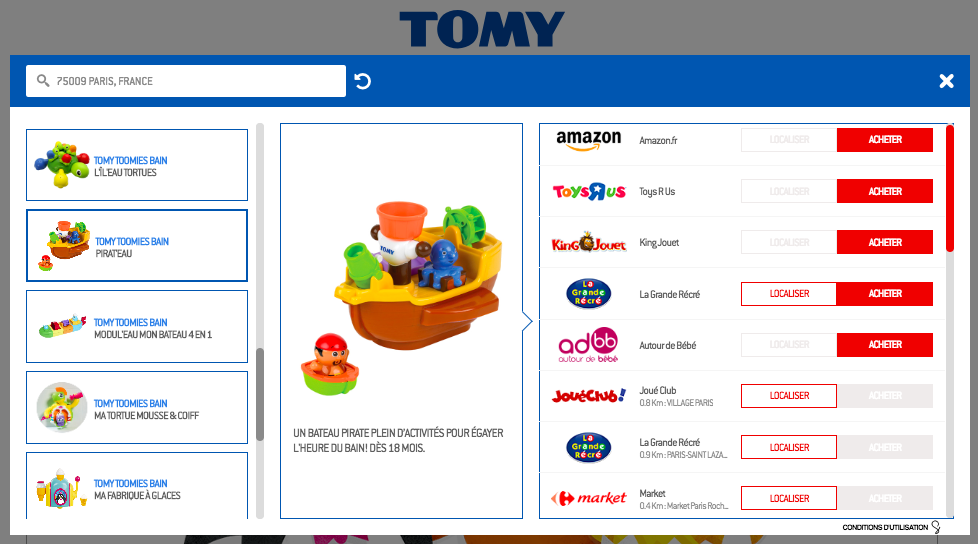 This strategy allows TOMY brands to multiply the number of qualified leads to their retailers online and offline. And as a result, they increase their sales.
In addition, the solution tracks the shopper paths from acquisition channel until purchase. With the collected data, the group can evaluate the performance of their marketing campaigns by brand, by acquisition channel, by product, by retailer, etc.
As TOMY is using POP in multiple touchpoints, they get a clear view on which digital campaigns contribute the best and the worst to their business growth. Based on the insights they are able to further optimise their digital marketing activities to maximise their marketing ROI.
Mattel boosts customer engagement with shoppable banners
Mattel bets this year on a 100% digital strategy in its marketing campaigns for the Fisher-Price brand in France. It's skipping even TV spots. The group believes it can better target the brand's audiences via digital channels with the objective to facilitate purchase and to increase the sales conversion.*4
Shoppable display ads are part of this new approach for which Mattel has chosen Swaven's POP In Banner solution. Fisher-Price site visitors get retargeted with advertisements that redirect the consumers to their chosen retailers to purchase the products.
Mattel's other brands, Mega Bloks and Barbie are also deploying Swaven's POP in their digital brand contents. With this type of multi-distributor 'where to buy' service, Mattel makes sure every consumer can easily find their products, in a shop of their choice. As the solution presents all retailers with available products, it adapts to all shopping preferences and allows to the group to serve all its audience efficiently. And this directly from within any digital brand content.
Contact Swaven to learn more about POP solutions and services that help your brand increase your digital marketing performance.
*Sources: