Fragrances took a severe hit after the confinements in many countries. We saw the number of leads from 7 leading fragrance brands suddenly halved in 9 countries. The situation has not improved for several weeks but we are now noticing an upward trend (wk15 and wk16). Is this linked to gradual deconfinement? 
Fragrance demand: scent of freedom? 
Not all categories have seen the same evolution in demand during confinements. Contrary to the doubled demand for skincare products and 6.5X increase for hair care, fragrances have seen a drastic decline.
We looked at 7 fragrance brands working with us on a global scale and included 9 countries in our analysis. In comparison with the average number of generated leads prior to lockdown (weeks 6-9), the demand for perfumes dropped by 50% by weeks 12 and 13. These correspond to strict confinements in many European countries and various regions in the US and South America.
However, the two last week's stats (wk15 and wk16) indicate early signs of recovery. One hypothesis could be linked to the decisions and plans for deconfinement. This remains to be confirmed, we will actively monitor the development.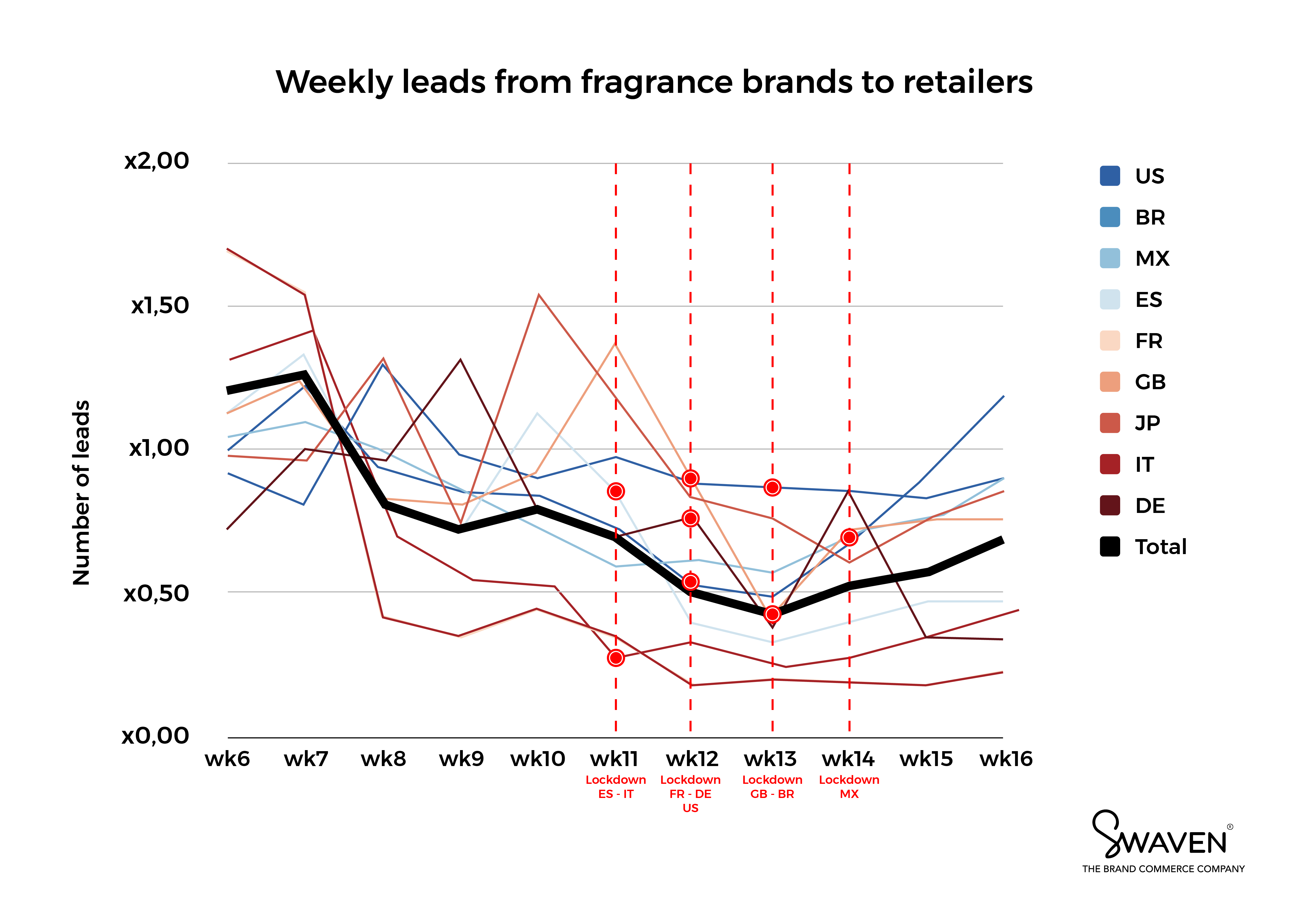 The patterns evolve in correlation to the respective restrictions in each country. They also depend on each brand's marketing activities and their collaboration with their online and offline retailers. 
Once the lockdowns end, brick and mortar stores will be back in the picture. It will be interesting to see how consumer buying preferences evolve and how brands adapt to them. 
Preparing for the post lockdown period
After the difficult lockdown period, consumers want to start feeling and smelling better! We can observe that people are starting to imagine and prepare for life after lockdown – going out, meeting colleagues and friends, dating… 
This gives reason to believe that beauty brands and their retailers should tighten their collaboration to help people recover from the lockdown. Follow the advice of Laurent Quatrefages, Co-founder and CEO of Swaven, and stay tuned for further insights from us. 
If you would like more details on your country/product specifics and how we work with consumer brands to boost their online and offline brand to commerce performances, please do not hesitate to get in touch.
Further reading: 
Lockdown: Hair care brands generate 6.5X more leads in France